29 avril 2013
1
29
/

04
/

avril
/

2013
15:20
Well, in our opinion Brazil is not a cycling destination, at least the part in the South we have biked. There is lots of traffic, aggressive drivers and a not very friendly attitude to people like us, homeless, nomads, moving from place to place. The landscape is nice, with green hills, continuous up and downs, never flat...it seems nice but with so much traffic you cannot enjoy.
Brazil is supposed to be among the top 5 economies in the world. However for us it seems to be the poorest country we have visited in the last 4 years. Ok, we do not measure richness by GDP or % of growth but by the happiness and welcoming of the locals towards foreigners.
Here are some examples to summarize life in Brazil based on our experience in the last 6 weeks in this country. Sorry, if it sounds too negative, it is not a general statement for the whole country but it is what we saw on a daily basis during our stay: People do not look at the eyes to greet each other, they do not even say "Bon dia" (if you do so, they look strange at you). It is a country with so many ethnics but still very racist: many times they asked me if I am a Bolivian fearing that I could be a drug dealer. Yes, huge fear to strangers, 2 people by bicycle who do not fit in their mental scheme and automatically they see us as "stranger and dangerous".
We were denied many times to pitch the tent, giving stupid excuses and trying to get rid of us. It is the first time we felt that if something bad happened the locals were not going to help "the 2 strangers". We wonder why the people have changed so much from the other countries in South America. Brazil seems like a continent apart, indeed the locals are proud about being Brazilian, most of them have never travelled outside and they probably think there are no other countries outside. This leads to a very racist attitude: if you are not from "the group=Brazil" you are not welcome.
We saw continuously signs of a sick society: people driven by money, consuming and consuming, huge poverty on the streets, the biggest gap between poor and rich we have seen since for long time. The welcoming by the locals was artificial; people seemed only to be interested in "how do you finance your travel", the social values have disappeared. We have no idea where Brazil is heading to, probably it will keep the huge growth rates but for us it is the poorest country in South America in terms of humanity.
Fortunately, Brazil is not that bad. Rio is a very beautiful city blessed by its prime location between hills and next to the sea. We also had very good meetings with warmshower members like JP-Evelyn, Iracema-Silvia and Thomas and his family, a friend I did not see for 6 years. It was great to share time with all of you!
Finally the flight was waiting for us and after 11hours we landed in Barcelona where my sister was waiting to give us a huge welcome!!
RIO DE JANEIRO AND ITS FAMOUS 'PAO DE AÇUCAR'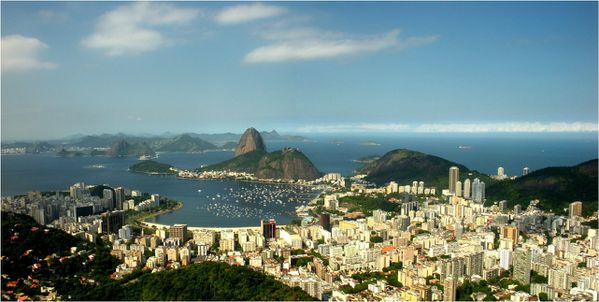 RIO DE JANEIRO AND ITS FAMOUS 'PAIN DE SUCRE'
Dernier troncon: on quitte les chutes Iguazu à destination de Sao Paulo, quelques 1'100km redoutés! Non pas pour la distance ni pour la difficulté (pourtant le profil du terrain est rempli de challenges permanents – montées-descentes, le plat est quasi inexistant) mais pour le type de route – que dis-je autoroute - et son trafic dense où les chauffeurs de poids lourds tout comme les automobilistes ne donnent aucune considération aux pauvres cyclistes que nous représentons – mais alors ZERO!
On organise notre survie, roulons sur la bande d'arrêt d'urgence, l'exercice se voit sans aucun intérêt, mais a pour avantage de nous garder en vie. Le problème commence lorsque cette dernière disparait pour donner place a une deuxième voire troisième voie lors des montées. On se voit donc obligés de traverser toutes les lignes et poursuivre à contre-trafic sur la bande d'arrêt d'urgence opposée.
Le paysage n'est pourtant pas moche, la chaleur est supportable, on dégotte des douches facilement et, à souligner, partout (station essence, restaurant, cafétaria...) là où les chauffeurs de camion font escale.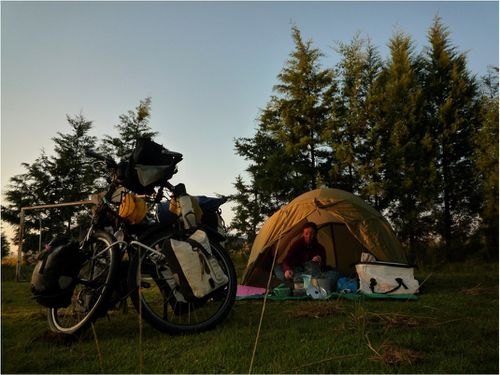 Le meilleur spot de camping trouvé pendant ces 13 jours de vélo:
un terrain de foot!

Autoroutes et camions - passage du tropique du Capricorne
Un autre exercice de taille est de se trouver un endroit pour planter la tente! Après 4 ans à voyager en vélo, on compte sur une main les fois ou l'on nous a refusé le "prêt" de 4m2 de terrain pour y passer la nuit. Que ce soit chez des particuliers, fermes, églises, pompiers…, en principe le voyageur cycliste attire la sympathie, sauf ici au Brésil! 9x de suite en une soirée on nous refusera un endroit pourtant demandé dans un mini-village où l'espace vert ne manque pas. Visiblement on effraye les Brésiliens pour ne pas être justement Brésiliens. Y aurait-il un brin de racisme? Certainement! Voilà que l'on vous affiche notre pauvre vision de ce pays et ses habitants antipathiques, on ose espérer que cela concerne seulement le Sud – partie la plus développée du pays.
Qu'à cela ne tienne, on se débrouille et on survit une fois de plus pour la phase nocturne aussi: si demander autorisation se révèle un échec assuré, on décide de s'octroyer des endroits sans autorisation et pour ce, on plante donc notre tente derrière de petites chapelles abandonnées, terrain de football ou dans des endroits ou le "nomade motorisé" y est convié – c'est à dire – les stations essences gigantesques. Cette solution se révèle un peu bruyante et pas le top du top pour poser une tente sur un parking lorsqu'il pleut. Pour avantage on notera les commodités suivantes: douches chaudes gratuites et WC super propres, eau bouillante a disposition pour le café matinal tout comme de l'eau potable fraîche pour remplir les bidons de vélo, un signal WIFI pour checker les emails, bref, ces lieux deviennent pour nous comme des hôtels.
13 jours plus tard, l'épreuve ultime se présente à nous: entrer dans la méga cité de Sao Paulo et ses 20 millions d'habitants, rien que ca! On se souvient du trafic du Caire, Tokyo, Osaka, Pekin, Bogota, Quito, La Paz, Buenos Aires et on se dit que ca devrait passer, une fois de plus…
La réalité: les voies semblent se multiplier au fur et à mesure de notre rapprochement de la ville, 2 puis 3 puis 4 et ainsi de suite jusqu'a être bordés de 10 voies et un nombre impressionnant de poids lourds et voitures nous frôlant à toute allure. Le problème le plus redouté étant les entrées et sorties d'autoroutes où évidemment personne ne nous considère et où l'on se voit obligés d'attendre parfois 5 bonnes minutes pour enfin avoir 2 secondes pour traverser la voie entre 2 voitures entrant plein gaz!
Un rythme de malade, une odeur nauséabonde nous faisant lever le nez du guidon – tient on traverserait quelques "favelas" (réptuées dangereuses) et après 4 heures et demie, nous voilà enfin dans la ville ou le piéton réapparait et de ce fait pouvons rouler sur les trottoirs.
On s'offre quelques pâtisseries, se félicitons d'être toujours en vie et on se jure de ne pas pousser la chansonnette jusqu'a Rio de Janeiro. Oh non!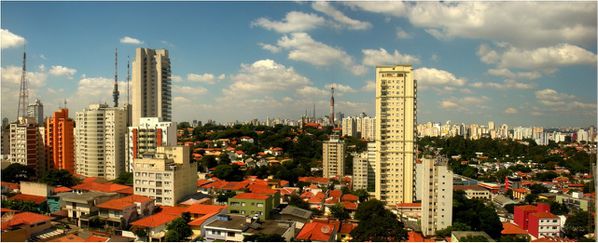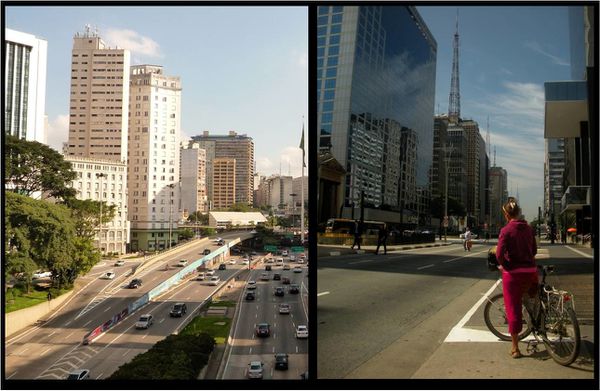 Avenida Paulista - Business Centre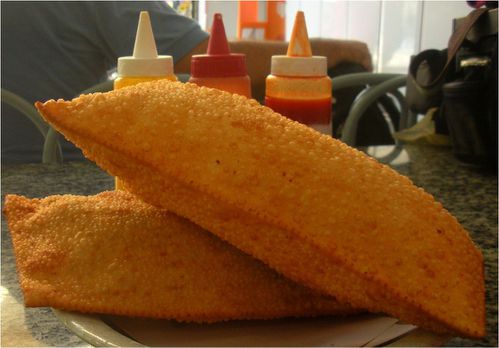 'Pasteles' - rectangles fourrés et frits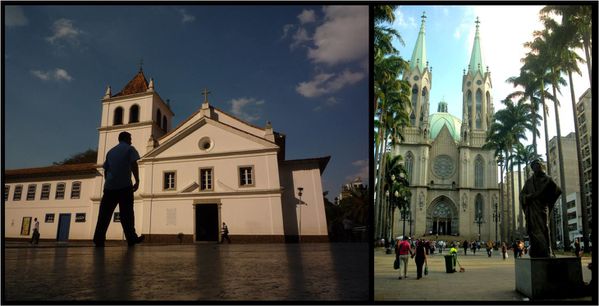 Centro - Cathedrale de Sé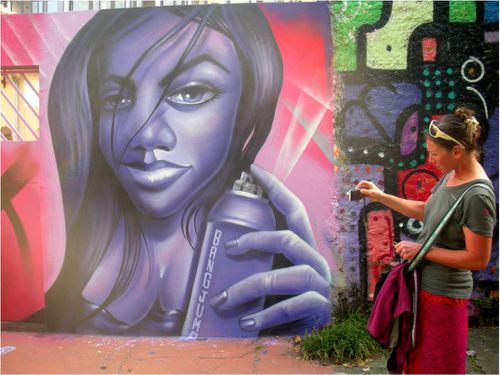 Quartier Bohèmien - Vila Madalena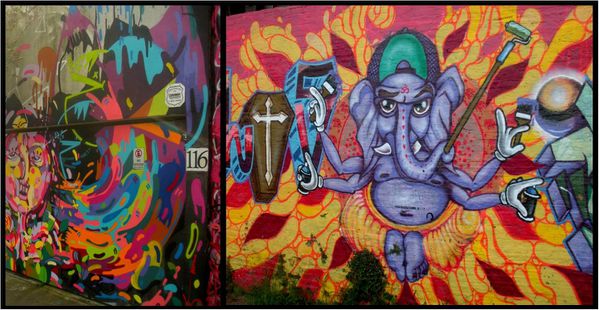 Pieds a terre, Chotine et Kakarbita ont rempli leur mission Sud-Américaine haut la main, repos pour elles tout comme pour nos jambes. On décide donc de faire un saut a l'immanquable Rio, ses plages, et vues mythiques au côté du Christ en version aller-retour en bus.

Vue depuis ses épaules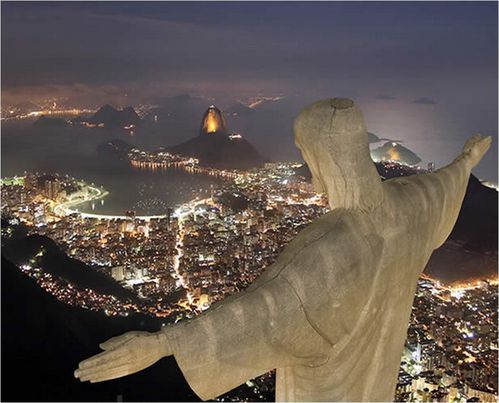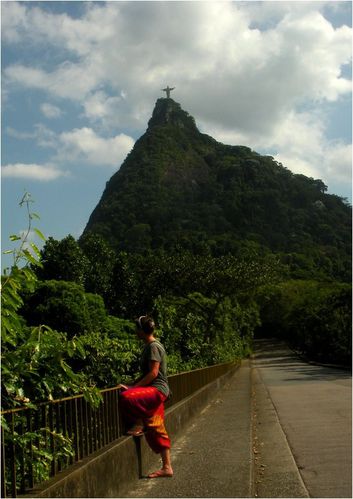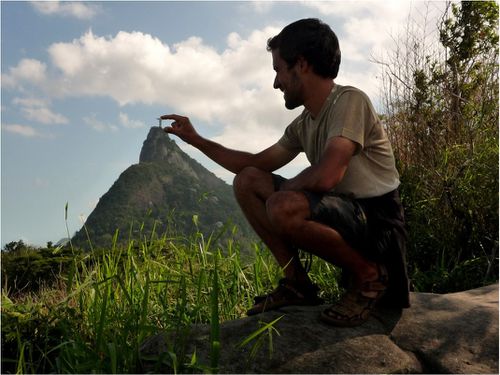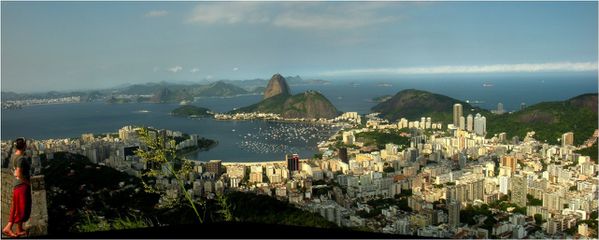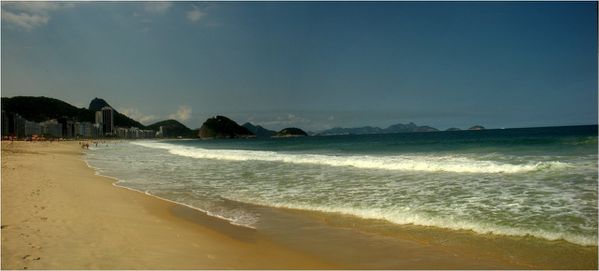 Plage mythique de Copacabana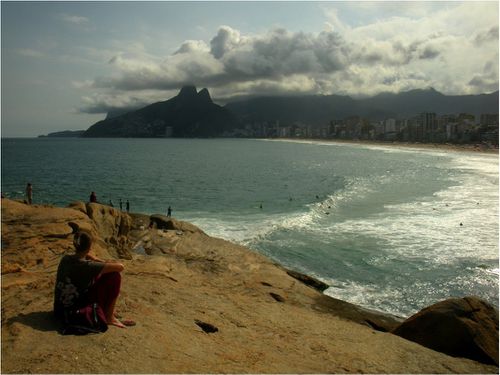 et celle d'Ipanema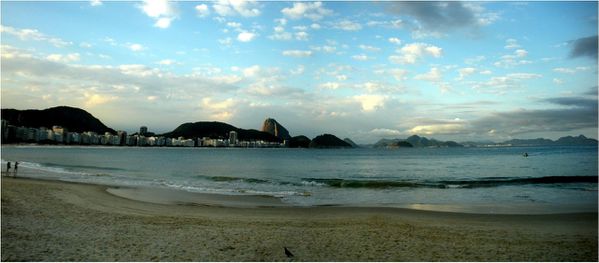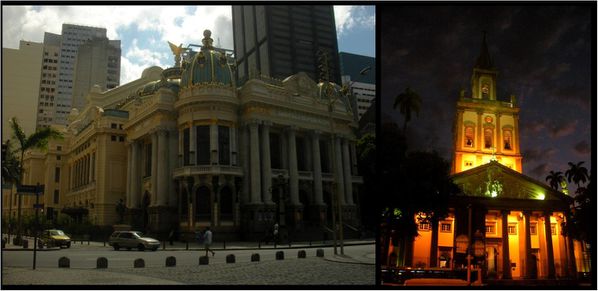 Centro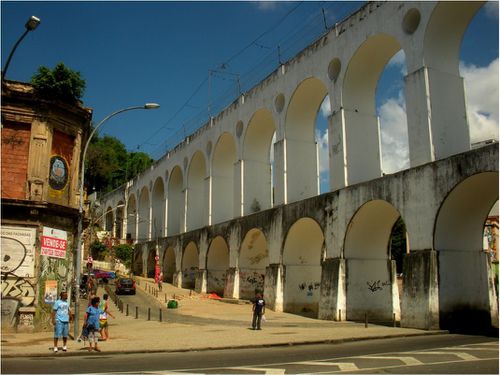 Arcos de Lapa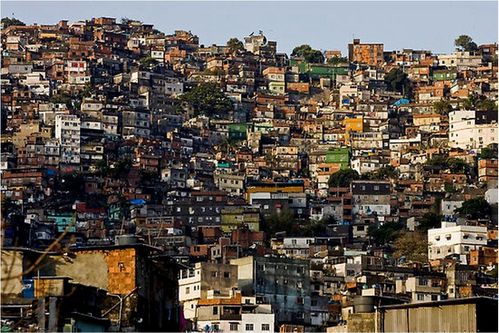 Favela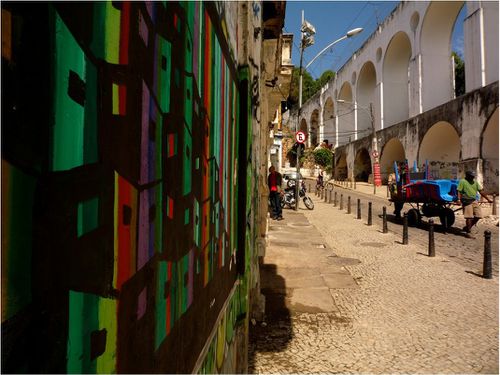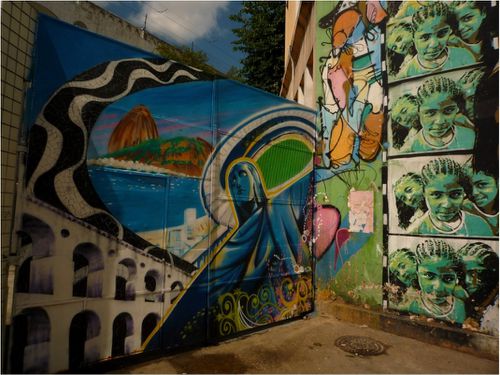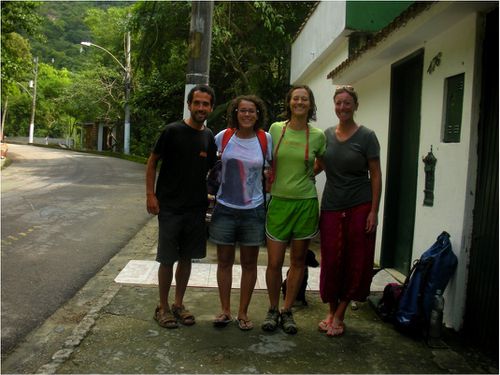 Merci a Iracema & Silvia - bel accueil sur les hauts de Rio!
De retour sur Sao Paulo, l'exercice paquetage de vélo et se rendre à l'aéroport avec nos passés 100kg de bagages s'opère (un énorme merci a Denise!!), le check-in est a la hauteur de la réputation de la compagnie aérienne - pour ne pas la citer, Singapore Airline - le décollage est doux tout comme l'atterrissage, accueillis que nous sommes par Edurne, la soeur de Joseba: Barcelona nous voilà, que c'est bon et facile de se retrouver en terrain connu…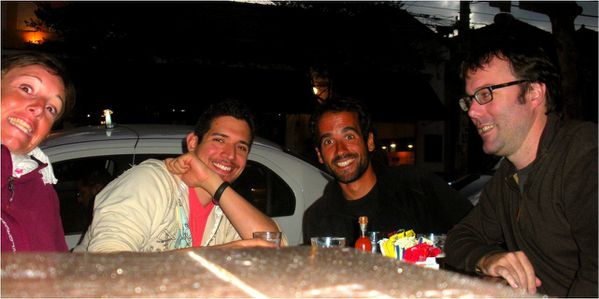 Merci a Thomas - ami d'études de Joseba - Denise & Eric pour l'excellent accueil sur Sao Paulo.