14 octobre 2011
5
14
/

10
/

octobre
/

2011
12:55
Maputo is somehow a city out of Africa.
You can feel a mediterranean influence with the little terraces to drink a coffee, people just sitting and reading the newspaper. The Portuguese influence is also quiet relevant with colonial houses (falling apart) and food dishes. At the same time you can see big old comunist blocks of houses while walking along Lenin, Karl Marx or Mao Tse Tsung streets to suddenly turn the corner and visit the cathedral!... the whole city is full of contrasts.
Streets with no sidewalks, good "padarias" (bakeries) everywhere, restaurant-cafeterias-bar (depending what time of the day and the customers), women selling some vegetables on the streets, "boiled egg" kids, absolute chaos in the traffic, dirt everywhere... all in all it is a nice feeling that remembers us we are still in Africa, a place we have enjoyed so much during the last 8 months and that we are certainly going to miss once we cross to the much more developed South Africa.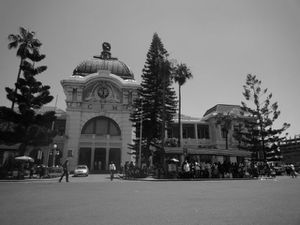 Caminho do Ferro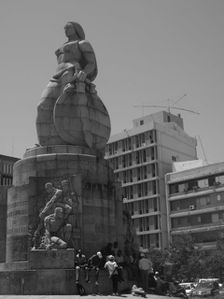 Praça os trabalhadores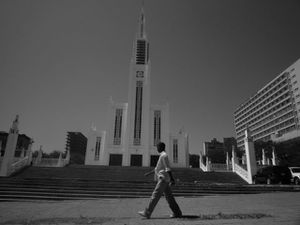 Cathedral - Nossa Senhora de Conceiçao
Maputo, capitale coloniale Portugaise. Un melange mi-Afrique, mi-mediterranneen. Chaos dans le trafic, rues encombrees, vendeurs d'oeufs durs pour 6 Meticais et femmes vendant les fruits et legumes assises a meme le sol. On est habitue a cette scene, c'est l'Afrique.
Cafes et ambiance terrasse, parfum de pain frais et patisseries a tous les coins de rues, une Cathedrale - Nossa Senhora de Conceiçao - tout de blanc, un fort. L'influence Portugaise est bien palpante.
Samora Machel quant a lui laisse des traces de communisme: Rues Lenine, Karl Marx ou Mao Tse Tsung bondees d'immeubles a moult etages en delabrement avance.
On repose nos jambes au niveau de la mer parmi les quelques millions d'habitants, quelques pains frais sous le bras, lorgnant le port en contre-bas et profitant de l'athmosphere decontractee des lieux.
Dernier gout de la reelle Afrique, continent que l'on savoure depuis 8 lunes, l'Afrique du Sud et son developpement est a deux pas...