28 août 2012
2
28
/

08
/

août
/

2012
04:23
Yes, there are lots of tourists... but nevertheless it is worth to visit the Valle Sagrado and Machu Picchu! We leave aside the bicycles for 10 days and greet with great enthusiast Corinne parents who visit us here in Peru for the next three weeks. First night the "fondue" directly brought from Switzerland makes us feel back home... great time around the table to catch up with Suisse chocolate as dessert!
We spend the next week along the Valle Sagrado, full of Inca ruins. The most impressive is Pisac with a nice walk along the terraces and the ruins of Saqsaiwaman. Another good surprise is the Salineras de Maras, salt water terraces used since the Inca times. The bright white colour gives us a unique setting. And finally we reach the famous "lost city" of the Incas that obviously was not first discovered by "the American" as it is claimed in many books but was instead long time inhabited and visited by local people like Melchor Arteaga or Agustín Lizarraga.
Machu Picchu is nowadays one of the biggest highlights and "money making industries" of all South America with its pros and cons. Indeed it is a place with magic, perfect layout with beautiful surrounding flanked by Wayna Picchu, almost too perfect for the picture! The drawback is the high number of visitors... but one can escape for example to nearby Machu Picchu mountain that offers spectacular views down the valley at almost 3,000mts. Absolutely not to be missed the visit and climb! Once back to Cuzco we prepare our riding to Puno, on the shore of Titicaca lake.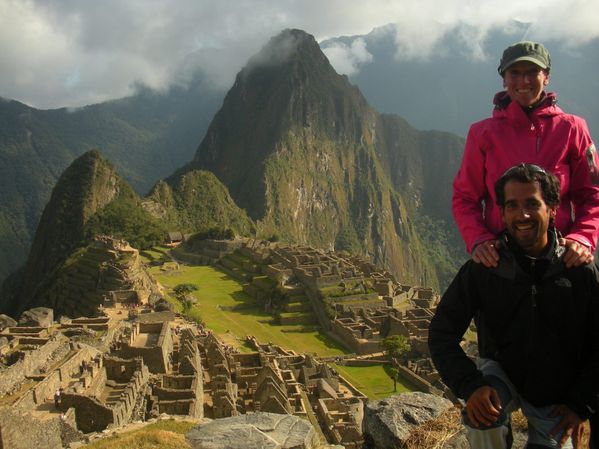 Les retrouvailles s'operent, la fondue fait son effet, la convivialite est de la partie parmi la froidure 'Cuzqueñene'. Mes parents etant au Perou pour 3 semaines, on laisse les velos de cote et nous mettons en mode pieton & touriste.
La capitale Inca situee a quelque 3'450m d'altitude donne un premier defi d'acclimation a nos 2 visiteurs, les mates de coca sont sirotes – les vertues des feuilles se diffusent et font des miracles.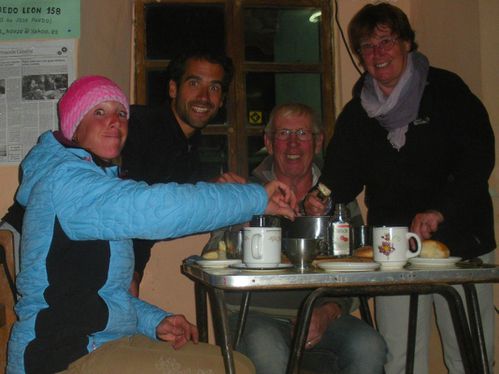 Mate de coca ou Damassine...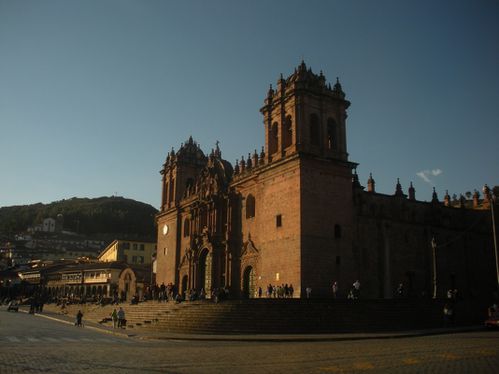 Cathedrale - Cusco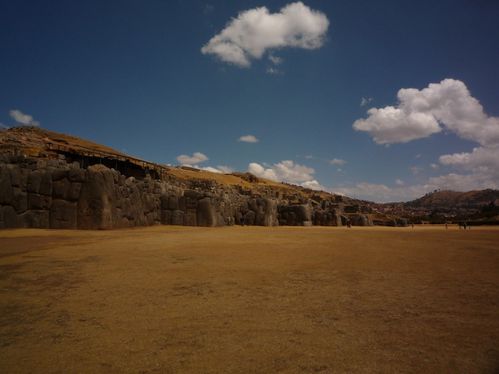 Saqsaywaman – ruines Incas surplombant la ville revelent l'ingeniosite de cette peuplade – les pierres gigantesques travaillees et empilees avec une precision hors norme.
La Vallee Sacree irriguee par le Rio Urubamba nous divertit pour les prochains jours: Pisaq – Moray – les Salines de Maras – Ollantaytambo et en point d'orgue, le repute Machu Pichu! On opte pour un trajet aller 'sportif' plutot que le train touristique: Mini-bus ou s'asseoir equivaut a etre assis sur son porte-monnaie ou les genoux de la voisine, 4 heures d'auto-car sur une route sillonant les flancs d'une montagne pour gravir un col a 4'300m le tout sans place assise, un taxi-partage virevoltant sur une piste caillouteuse pendant 1h40 et nous voila prets pour les 2h30 finales de marche le long de la voie ferree menant a la cite dortoir du village d'Aguas Caliente – juche au pied de la montagne sacree du Machu Pichu.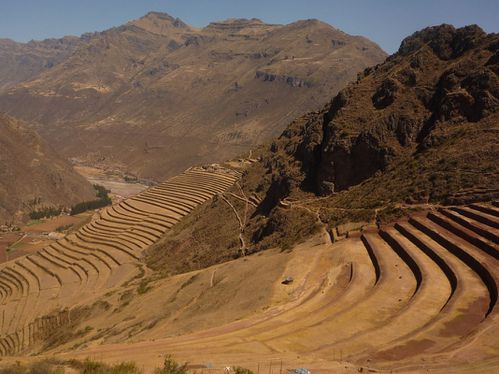 Pisaq et ses cultures en terrasse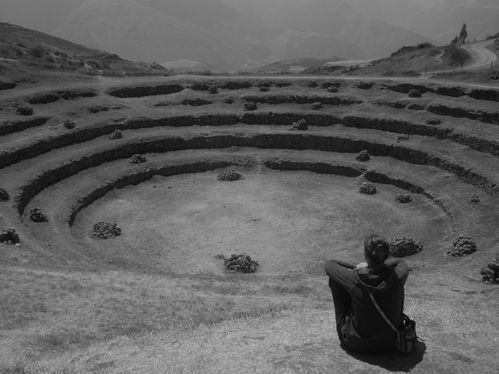 Moray - amphitheatre creant des "microclimats" permettant des cultures experimentales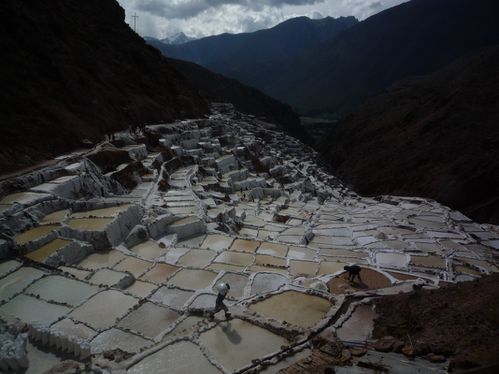 Salines de Maras - plus de 400 parcelles de sel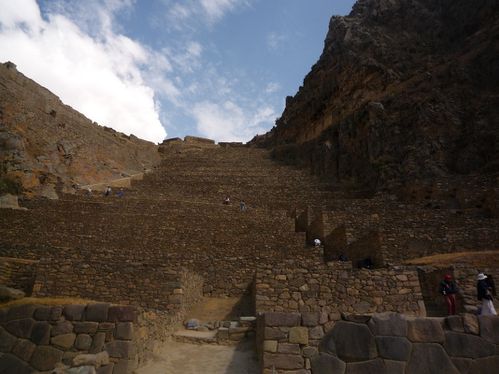 Ollantaytambo - ruines et village Inca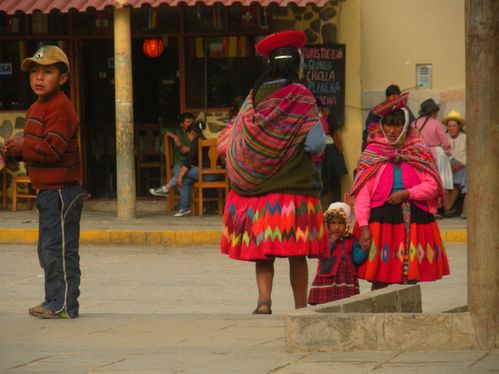 Vetements traditionnels des descendants des Incas
Decouvert il y a 101 ans, le site est depuis visite journalierement par 2'500 personnes. La plupart des visiteurs montent en car; nous, nous optons pour le sentier escarpe bien plus paisible et valorisant des Incas. 1heure et quelques minutes plus tard, la vue quelque peu brumeuse s'offre a nous, les ruines se laissent apercevoir , le Wayna Pichu se cache encore, on patiente et observons ce spectacle.
On gravira la montagne Machu Pichu (3'080m) et autant de marches d'escaliers escarpees, histoire de s'offrir une vue hors paire sur le site a l'abri des foules.
Le petit train touristique nous ramene a Ollanta' cette fois-ci juste le temps d'un café au lieu de nombreuses heures chaotiques de bus, on reprend nos reperes dans la cite de Cuzco – un dernier ajustage mecanique et nous voila prets au depart pour 4 jours et quelques 390km de velo. Un bus nous doublera avec a son bord nos 2 compagnons, les secondes retrouvailles s'opereront sur les rives du lac Titicaca…