14 octobre 2011
5
14
/

10
/

octobre
/

2011
11:53
We leave the paradise of Vilanculos heading towards Maputo along a much better road than in the north of the country, much more development and more population living very basic, just fulfilling their daily basic needs. It is very pleasent to bike along palm trees and beautiful lagoons with clear water. The scenary is hilly with lots of ups and downs, on the side of the road we always find people selling minuscule quantities of different products (tomatoes, potatoes, a few garlic, some onions, pepper,....), just to survive for the day, they will be happy if they can sell the equivalent to 1-2 USD.
Water is never a problem and we are never rejected when we ask for permission to pitch the tent. Closer to Maputo we start to feel the heavy traffic, the locals welcome us to the capital city!

On quitte le paradis de Vilanculos a reculons, longue distance de plus de 700km devant nous afin de rejoindre la capitale - Maputo. On devine le profil - plat - en etudiant la carte, par contre pour le vent soufflant du Sud, les epoirs sont minces. En pleine face!
Le revetement de route s'ameliore au fil de notre approche de la megacite, notre supposition de plat n'est que dans nos reves, la realite est carrement bien bosselee. Rien de tres mechant, juste des UP & DOWN en continu, les vitesses et plateaux virevoltent, les manettes cliquent et claquent. Le vent toujours de face.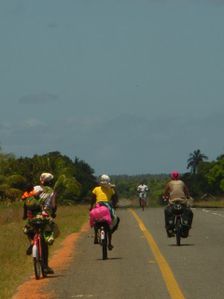 Le paysage se metamorphose, fini les arbustes secs. Les Baobabs laissent le champ libre aux cocotiers. La verdure reprend ses droits, se melant esthetiquement aux eaux turquoises des lagons jalonnant les cotes.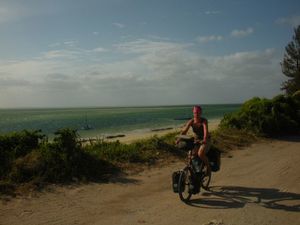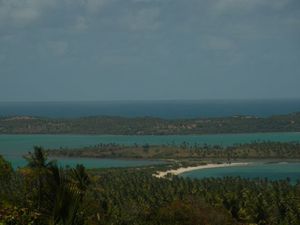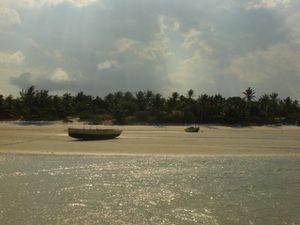 Fini les vendeurs de sacs de charbon, a present le business de vente se passe dans la noix de cajou. Delice. La negociation se fait par tasses de differentes grandeurs, une petite pour 15 Meticais, une grande pour 25 (1 USD= 28 Meticais). On succombe a la tentation, juste grillees, encore tiedes.
Le tropique du Capricorne nous prouve notre avancee, le souvenir du franchissement de l'Equateur est dorenavant lointain, le Cap Bonne Esperance semble a portee de roues dorenavant.