PATRICIA & OSCAR (Argentina, December 2012)
We were delighted to spend Christmas time with Patricia and Oscar. Their warm welcome escaping from the persistant rainy weather was a real present for us. We will remember the great travel conversations drinking Argentinian wine and eating fresh rasberries wrapped with Chantilly!
Hope to meet you again on a bicycle!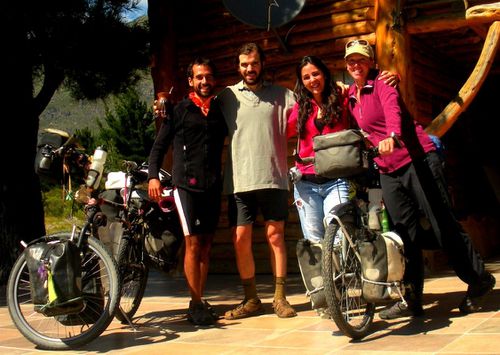 Lago Epuyen, Christmas 2012
MARIANO LOREFICE (Argentina, December 2012)
We met Mariano Lorefice (http://www.patagonia-biking.com) first time in Mongolia in 2010 when he was guiding a cycling trip there. No one knew that we would meet again in his home country Argentina.
In El Bolsón we spent a nice moment wih him talking about all his sport achievements which are simply amazing (http://www.aventurarse.com/red/fichas/lorefice.html) and about all the nice destinations to bike in the world he has discovered in more than 20 years. There is always a magic moment when long distance cyclists around the world gather around a table and start to talk about their experiences. Furthermore Mariano is not only a great cyclist but also a generous and very humble person which makes him look even more human.
Thanks to him we can continue our tip with a reliable rim (hope it lasts till Ushuaia), the Taiwanese rim Joseba bought in Chile suddenly broke after not even 2,000kms. "You need it now, so take it", he said without hesitation offering us a new rim.
Thanks Mariano for your generosity and good tips. See you on the road!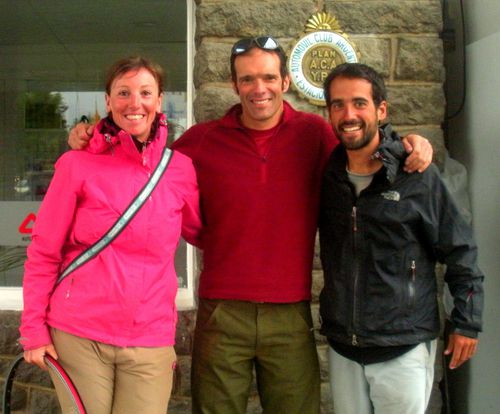 GRANT & THE COMFREY COTTAGE (South Africa, November 2011)
Lady Grey! We were dreaming about this place as we were biking for 10 days in a row through the tough and steep Lesotho. Back in South Africa we found the perfect place to have a rest, Lady Grey and its prime location in a mountain circus and the very friendly Grant who was waiting for us (we met him through "Warmshowers" - the hospitality club around the world for bikers).
We had more than just a place to sleep: our tent was pitched in an amazing garden in the middle of the Cottage with 6 lamas as neighbours!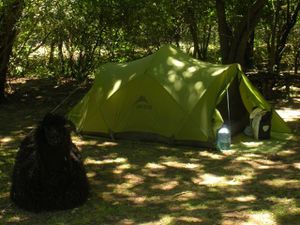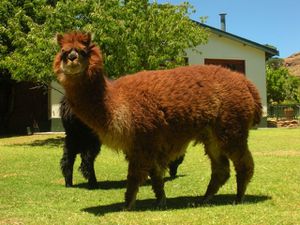 All the time we felt as another member of the family, we will especially remember the delicious and nice time we had sharing a Braai while facing the cliff at sunset time. The Comfrey porridge should be patented! www.comfreycottage.co.za
Grant is also a big fan about touring bicycles, he is the only distributor in South Africa for the well known touring material: Schwalbe, Tubus, Ortlieb, Pletscher... www.cycletouring.co.za
Thanks for hosting us and the good time spent together! Hope to meet again biketouring in Europe!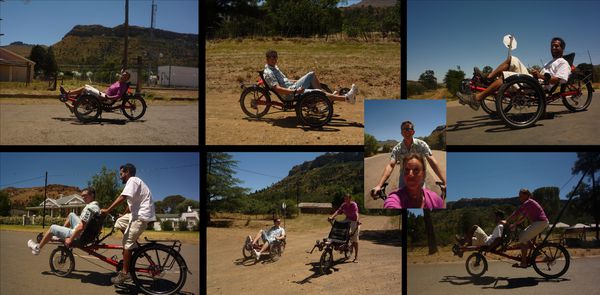 Having fun with these 2 crazy bicycle models on a Sunday morning around Lady Grey!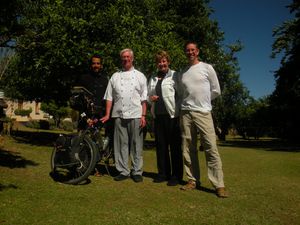 BRIDGET & CARLOS (South Africa, October 2011)
I was waiting long time for this meeting! 2 years ago, we met on the road in Ladakh as we were touring opposite way. Bridget was eating Mug Dahl, Carlos some chips, I was sick like a dog and was dreaming of being hungry to accept their offer. No more than 20 minutes chating: "... anyway we have to meet again one day!..."
And finally this day came in South Africa - Howick!, the place they are living now which will be our cocoon for a week.
Time to catch up, time to share our experiences... Bridget and Carlos biked in the Americas a few years ago, perfect to get advice for our next steps! Great as well to see Ladakhi diaporamas since once every year they are also guidetours in one of the most beautiful places for biking: http://www.spanafrican-adventures.co.za/


Thanks a lot for hosting us, hope to see you again somewhere in Patagonia, Europe...!
FAMILIE BARTHEL (South Africa, October 2011)
Looking for a place to pitch the tent in a city is quite challenging! Asking the police, the churches, the schools and finally found Menusi Mission just before the night!
Madeleine & Stephan, a German couple in charge of the place kindly invited us to spend the night with them.
Delicious breakfast, fully adviced we thank you and wish you all the best for your future in Dundee!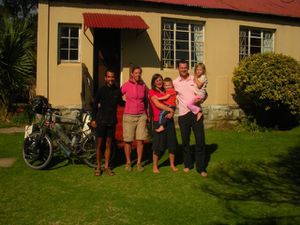 http://www.familiebarthel.blogspot.com
LOUISA & FANUS (South Africa, October 2011)
Looking for a place to put up the tent in South Africa can be challenging as every piece of land is fenced and safety a concern...
We were rooming around on the way to exit Paulpietersburg Town. Louisa and her biking partner were starting a late afternoon ride in the area. As it happens in South Africa, extremely friendly people are coming to us to know where we are heading to and if we need any help.
This is how we met...
We had a great time sharing our biking passion. Thanks a lot for hosting us and giving us excellent informations for the road ahead!
Looking forward to seeing you again in Switzerland!!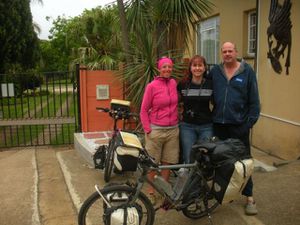 BAREND (Swaziland, October 2011)
Sicunusa border - 3 kms before crossing to South Africa...
A huge storm was just ahead of our wheels in a desolated area end of the day. Barend spontaneoulsy took us to his farm and offered us an amazing "coocon" away from the bad weather.
We had an great time with your father and you around our first Braai (BBQ), THANKS A LOT!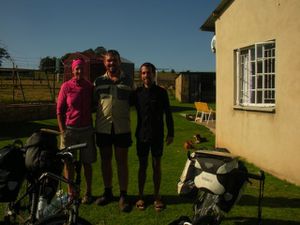 VIVIANA & FELIX (Zambia, August 2011)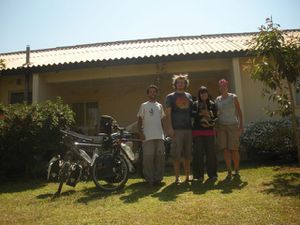 Lusaka was a nice stop after biking 700kms in a row from Lilongwe. We were welcomed by Viviana and Felix in their beautiful house.
Joseba had a new friend to play with - Rudi - a 6 weeks old puppy. For once, Joseba was not afraid of dogs, no needs of using the Dazer!
Thanks for hosting us and let us enjoy the beautiful garden!! All the best for your stay in Lusaka!
ZIZ AND HIS FAMILY (Malawi, August 2011)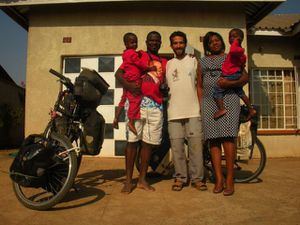 Thanks to Ziz and his family who welcomed us in Lilongwe - Malawi.
3 energetics and very friendly boys, we really felt at home with them. Amazing food was making us staying "one more day" :-)
It was a great place to relax and make new friends!
PHILIPPE and JULIAN (Uganda, June 2011)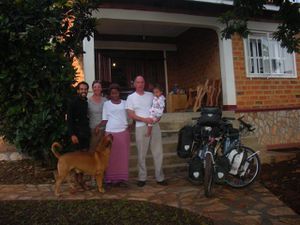 They hosted us in Kampala with a very warm welcome. We were feeling part of the family. Thanks a lot for giving us the opportunity to rest in such a peaceful place. It was great to feel back home, enjoying the excellent food and the interesting chats about African issues. If you plan to visit Karamojo region, do a safari and enjoy the exclusive wilderness they are definetely the people to talk to: http://karamojosafari.com/
PARISH (Kenya, May 2011)

We would like to thank all the missions (locally known as parish) that have hosted us along our ride through Kenya. Especially the ones which welcomed us in the arid land of Turkana giving us a shelter and good info about the road ahead. They were the perfect place to rest and recover for the next strech of sandy piste. We will never forget the missions in Todenyang, Nariokotome, Lodwar, Lokichar and Kainuk.
NAGUI CHEHATA (Cairo-Egypt, February 2011)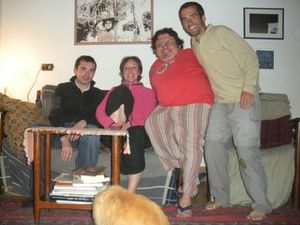 Very nice meeting in Cairo to start our biking trip in Africa.
We stayed with Nagui while we were in the capital.
He is a very friendly host and we had a very good moment talking to him and discussing issues after the revolution in the country.
He provided us with a quiet place to relax and escape from the busy streets in Cairo.
He also has a nice blog where you can read more about his adventures at Pension de la Joie: www.pernsiondelajoie.overblog.com
Thanks Nagui, we hope to meet you again!
HASSAN and SALAH from the Nile Valley Co. of Transport (Aswan-Egypt, March 2011): They were a great help in the whole process of getting the ticket and boarding the ferry to cross to Sudan
MAGDI and SHAFIR (Wadi Halfa- Sudan, March 2011): Very helpful people who speeded up the process at inmigration and to register in Sudan. We were invited to stay at home with Shafir for 2 days
NUBIAN FAMILIES (Nubia-Sudan, March 2011): You will probably have heard many times about the hospitality of Nubians. They are used to hard living conditions and will share the few things they have with the "hawaya" guest. Nubians are one of the friendliest people we have met in our travel, their greetings and smile are true!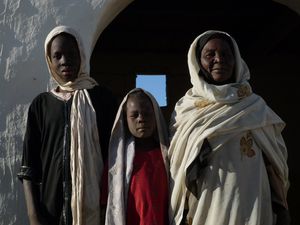 DEBORAH (Khartoum-Sudan, April 2011) She hosted us during our stay in Khartoum. It was a great rest for us from the heat and the biking days in Northern Sudan. Deborah is a perfect host and knows exactly what we needed. Thanks for your hospitality!
CLAUDIO (Addis Abeba, April 2011) Claudio hosted us during our stay in Addis (almost one week) while we were aplying for the Kenyan visa and resting after biking north Ethiopia.
Claudio gave us what a biker needs after almost 2 weeks traveling in Ethiopia: a perfect place to rest with all facilities, very quiet and calm.
Thanks Claudio for your hospitality, you made us feel at home!!!