Information as of Feb-March 2011
VISA: On arrival at all major airports. Cost is 15 USD for 30 days (if you stay longer you can benefit of a 10-12 days grace period or extend it for a few dollars at all major cities)
ONWARD VISA: Cairo and Aswan are the best places to get a Sudanese visa (100USD for 1 month stay + letter of introduction from your embassy in Cairo)
WEATHER: Best season to bike in Egypt is winter time (Nov- March). In the western desert nights can be cold during this time
FOOD: Inexpensive and tasty food (bread, feta cheese, fuul and falafel for breakfast, delicious sugar cane juice and fruit salads). Tea, more than sweet!!
WATER: You have in every village a public water dispenser (good and fresh drinking water)
SLEEPING: Good value for money. Some recommendations: Fontana Hotel (Luxor) and Yasin Hotel (Aswan)
CAMPING SPOTS: Very scenic in the Western Desert and Sinai though wind can be a problem
ROUTES: We really enjoyed biking in the Sinai peninsula and the Western Desert. If you can choose it is better to bike from north to south as you will have most of the time tail wind.
Western Desert: Water is never a problem since you will always find police checkposts or ambulance points (locally known as SAFF) every 50-70km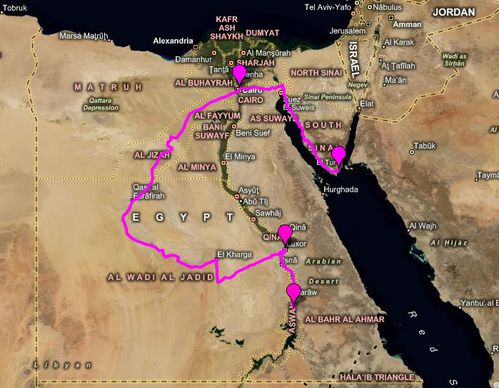 ROAD: Very good tarmac roads all over the country and kms road information is accurate.
TOPOGRAPHY: Egypt is a flat country, highest mountains located in the Sinai peninsula but no big passes
ORIENTATION: Easy to navigate
LOCALS: In touristy places they can be a big hassle and you will be cheated most of the times, once you leave the touristy places you can find friendly people
ANIMALS: No problems
ONWARD TRANSPORT: Egypt is very well connected by air to Europe (eg Easyjet), by ferry to Europe, Saudi Arabia, Syria, Jordan and Sudan (every Monday departure from Aswan to Wadi Halfa)
---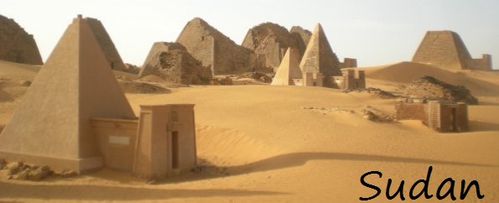 Information as of March-April 2011
VISA: Cairo and Aswan in Egypt are the best places to get a Sudanese visa (100USD for 1 month + letter of introduction from your embassy in Cairo). If you are coming from the south we heard it is difficult to get a Sudanese visa in Ethiopia, the most they issue is a 14 days transit visa. Another option coming from the south is to enter Juba (South Sudan) from Uganda (you will need a special permit for Southern Sudan and a Sudanese visa, both easy to get in Kampala or Nairobi). Once you enter Sudan you have to register within the first 3 days (110 Sudanese pound). When you reach Wadi Halfa you will get at inmigration a travel permit for northern Sudan (free of charge).
ONWARD VISA: You can get a visa for Ethiopia in Khartoum on the same day (20USD for 3 months). Eritrean visa is almost impossible to get in Khartoum. South Sudan will become an independent country in July 2011 and thus will need a separate visa
WEATHER: Best season to bike in Sudan is winter time (Nov- Feb)
FOOD: Little choice of fruits and vegetables + basic street food (bread, fuul, falafel, roasted chicken, sweets and excellent guava and mango juices)
WATER: In Nubia you can drink the water directly from the Nile. It is kept cool in clay pots that you can find in every village, it is best if you purify with a few drops first. In the Desert road that connects Abu Dom to Khartoum water is never a problem (you will find water in villages and cafeterias along the road- longest distance without water: 60-70kms)
SLEEPING: The cheapest option is "lokandas": a very basic accomodation with shared bathrooms where you can get a dormitory bed
CAMPING SPOTS: Sudan has big spaces to camp away from villages. You can find nice places in the Nubian Desert along the Nile. To protect against the wind you can use abandoned houses a few meters away from the main road.
ROUTES: We biked from Wadi Halfa to Dongola on the tarmac road. It follows the Nile parallel a few kms away and you can enter the Nubian villages making a small detour from the main road (the name of the villages is written) From Dongola to Khartoum we took the direct paved Desert road. From Khartoum to the Ethiopian border we went through Wad Medani and Gedaref on a tarmac road. Wind blows from North to South, sometimes quite strong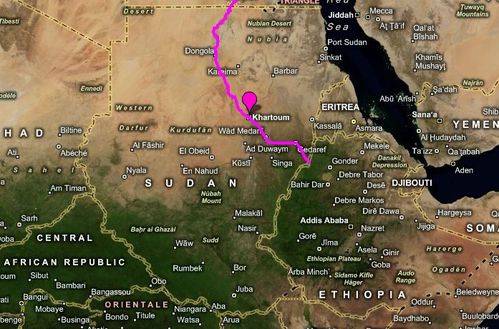 ROAD: Very good tarmac roads and kms road information is accurate (though the 0km mark btw Wadi Halfa and Khartoum is 25kms away from downtown Khartoum)
TOPOGRAPHY: North Sudan is a flat country
ORIENTATION: Easy to navigate
LOCALS: You will find Sudanese people extremely helpful and hospitable. They will always try to help the "hawaya" guest and will often refer to you as "sadiga" (my friend)
ANIMALS: No problems
ONWARD TRAVEL: Road to Ethiopia is open, the one to Eritrea, DRC, CAR and Chad are not for foreigners. To Egypt the only possible way to our knowlegde is to take the ferry from Wadi Halfa to Aswan (departure every Wenesday around 5pm). There are ferries going to Jeddah (Saudi Arabia). If you want to travel through South Sudan to Uganda it is better to bike till Kosti (limit of Northern Sudan) and take a boat to Malakal along the White Nile. From there it is a dusty and sometimes not very safe but possible road to Juba
OTHERS: There is no ATM in Sudan that accepts international cards. You have to bring all the money in cash
---

Information as of April-May 2011
VISA: You can get a visa for Ethiopia in Khartoum (Sudan) on the same day (20USD for 3 months). It is also possible to get an Ethiopian visa in Djibouti. However, coming from the south, it is currently impossible to obtain the visa for Ethiopia neither in Kampala (Uganda) or Nairobi (Kenya)
ONWARD VISA: In Addis Abeba you can get a visa for Kenya, Djibouti, Somaliland and a 14 days transit visa for Sudan. For Kenya you could also get the visa directly in the Moyale border, however if you plan to cross through lake Turkana you need to have the visa in advance (25USD for 3 months, pick up next day)
WEATHER: Try to avoid the long rainy season in the plateau (June-August)
FOOD: Injera (the national food) is to be found everywhere. Shiro (spicy crushed beans), fir-fir, spaguethi and fuul for breakfast are other options. Fresh fruit juices are excellent (avocado-mango was our favourite). Coffee is available everywhere and of very high quality
WATER: You can drink water from the tap
SLEEPING: The lodging quality in Ethiopia is quite low, enjoy the bed bugs!
CAMPING SPOTS: The fact that Ethiopia is highly populated, especially in the plateau, makes it complicated for camping. Safety is a concern, watch out for your belongings, it is better to sleep with the bicycle in your room!
ROUTES: We biked from Metema (border to Sudan) to Gondar. From Gondar to Addis Abeba we took the "gorge" route through Bahir Dar, Dangla and Debre Markos. Going south we took the road passing through Hosaina and Butajira to Sodo (a good alternative to the main road). From Sodo to Omorate via Arba Minch, Konso and Turmi.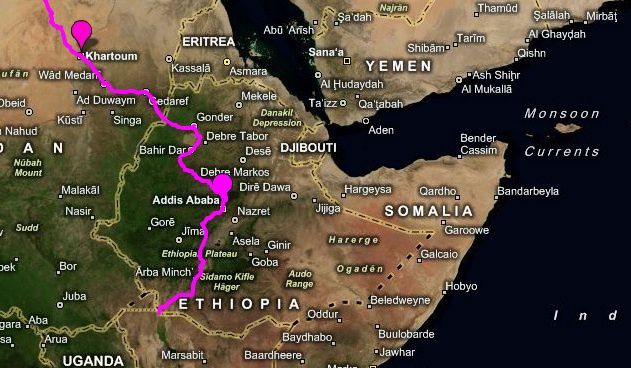 ROAD: Good tarmac road from Metema to Gondar. From Gondar to Addis the strech btw D.Markos to Dejen has some places -no longer than 1km each- with bad tar condition. The road we took going south from Addis is in good shape and mostly paved.
TOPOGRAPHY: Ethiopia is a very hilly country, so be prepared for some long tough climbs
ORIENTATION: Easy to navigate
LOCALS: You will have to get used to the constant shouts of "you, you, you", "faranji" and "give me money". Ethiopians are not especially well known for warm welcomings, you will get very dissapointed if you are coming from Sudan. And yes, the kids throw stones (always once you have passed, never facing you)
ANIMALS: No problems
ONWARD TRAVEL: Road to Djibouti, Kenya, Sudan and Somaliland are open for foreigners. It is not possible to go by land from Ethiopia to Eritrea
OTHERS: If you cross to Kenya via Turkana the Ethiopian inmigration is in Kelem. Since it is not yet an "official" crossing road note that currently there is no possibility to obtain the Kenyan visa at the border (Get it in advance in Addis, Kenyan inmigration at the border will just make sure you have a valid visa and you will have to stamp it either in Nairobi or in Lokichokio)